BaraVara – snoezelrelax at Tom Tits
---
The green gallery at Tom Tits likes to bring to mind a peaceful forest. Akvariebryggan, Mörka Rummet and the autumn frozen ice blue water puddle to slip around on, wishing well and the forest's many Autumn colors are some attractions. BaraVara means "just-to-exist" so here you're aloud just to exist – as in a forest …

The interactive computerized exhibit Recollections III forms your body in rainbow colours – dance and movement occurs.
The gallery BaraVara is designed with inspiration from Snoezelcenters in and outside Sweden. Snoezel is a kind of therapeutic method of relaxation, primarily conceived for serious intellectual and combined disabilities. Snoezelinstallation equipments are very similar to the science center's hands-on stations and are often arranged in a careful and pleasant setting. Some examples taken from snoezelcenters are represented in BaraVara. Other exhibits here, built at Tom Tit workshop, got several similarities with installations in snoezelcenters.
The main criteria for selection of interior and exhibition properties for BaraVara is just like for the rest of the house, discovery of scientific phenomena and technological principles. In addition, the room is designed for maximum accessibility from physical and pedagogical point of view. A few large exhibits are grouped freely on the floor with ample floor space around it.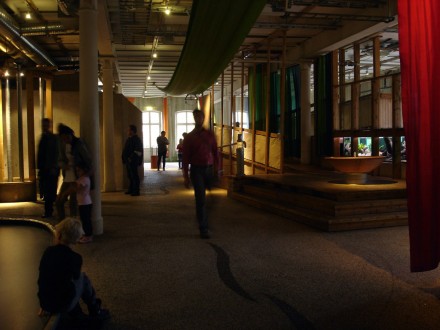 BaraVara was inaugurated in September 1995 by Queen Silvia of Sweden
The gallery of Bara Vara was remaked in 2017 and the most of the installations were replaced by new interactive exhibits
---