When the Antiquarian Morris decided to move their bookstore to a very own house TelgeMobile Arkitektur was chosen to lead the project. It ended up with a house of about 60 square meters divided into a large dominant gallery, a restroom and a little storage. Bokhuset, as our client calls his gardenpavillion in the eastern part of Södertälje.
Antiquarian Morris specializes in graphic design and typography and has customers worldwide. Many contacts is taken by the internetsite but Morris is also an outward bookstore organizes conferences, seminars and customer meetings, all with bokhuset as the hub.
The house is built on pillars, raised from the ground and lit from below. The facade facing the street is conceived of 29 square windows, one for each letter of the swedish alphabet.
Garden's tranquility is present in the house with views through fully glazed patio doors to the west, through the "literal windows" to the south and by a lower window strip to the east. A terrace with space for outdoor furniture connects inside and outside. On the floor at one of the patiodoors there is a 1 meter wide mosaic of typography as a theme designed and assembled by Hannes Rydell, fonts illustrator and graphic artist.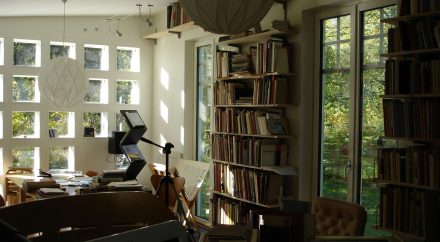 Från bostadshuset på samma fastighet finns referenser till fasadmaterial mörk träpanel mot gatan. I övrigt är fasadmaterialet  galvaniserad plåt.
After the project start-up with hand-drawn sketches, models and references, this project is computerdesigned in 3D. A method which brings a good opportunity to study intentions and to easily make prints of drawings and documents
As well sketches of the first stage as construction permissions use and documentation for procurements and for working documents.
---