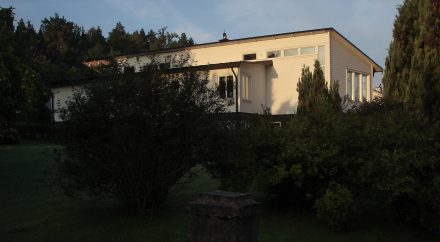 This family house is located on a slope to the north. A modernist appropriation intermingled with the other villas in an environment with different design and exterior materials. The area is fairly typical for residential areas gradually emerging since 1910/20-tal. The plot is a subdivision.
The house is composed of two elongated parts, both with pitch roof. A larger part containing kitchen and living room with highly placed windows and a lower sleeping area. Basement is partially furnished for the accommodation. Frame and facade is made ​​of wood.
The main volume composes a living room facing the courtyard and kitchen facing the street. Between the kitchen and living room there's an entrance hall in a bay window – a "porch" – on the half plane. You oversight the house from floor to floor and are greeted by an open staircase that leads up to the living room or down to the basement. Kitchen and living room are visible from this spot and spatially interwoven with the entrance hall which can be perceived as a part of the interaction space.
---